Robert Anders

Terry & Sheila Baimbridge
Paul & Cecilia Bricker
Glenn & Cathy Chvatal
Owen & Norma Connerly
James & Phoebe Connerly
Clyde & Phyliss Cox
Peggy Davenport
Ted Davis
Harry & Jean Day
Don & Martha Dulaney
Douglas & Rose Edwards
Walter & Sandra Garvock
Ed & Rosie Grady
Richard & Betty Goswick
Harry E Hanson
Lon & Gloria Harms
Don & Jane Hendricks
Larry & Vena Hicks
Wade & Margaret Hunt
Mag & Fela Jaramillio
Phillip & Mary Kidd
Art & Pat Landriault
Rennie & Clara Lanphier
Bud & Sharon Leach
Dalton & Charlene Logan
Bud & Sharon Leach
Jim & Dee Malm
Robert & Shirley McCoy
Kimsey Pitts & Laura Vasquez
Sonny & Nancy Poteet
Fred & Sharon Reid
John & Elvira Salazar
Rick & Wendy Shirley
Robert & Flo Smith
Scott & Yvonne Smith
Ron & Dora Todd
Jim & Esther Trusty
Bobby & Frankie Warner
Gary & Janie Watkins
Marshall & Brenda Watson
Terry & Sherry Wipff
Travis & Bobbie Williams
Clint & Barbara Wolston
Nick & Debbie Wooley
Joe & Beverly Wren

Friends of the Club

Dan Milliken
Enrique Garza
Ralph Holm
Joe Ratky
Craig Murff
Lorrie Koster
Jim Yates


52 Ford F-100, 64 Chevy Corvair
28 Graham Paige, 52 Ford P/U
58 Impala, 69 VW Cust.
54 Studebaker
78 Ford Ranchero
49 Willis Jeep, 78 Ranchero
57 Chevy HT, 62 Ford XL, 66 Chevy P/U
29 Roadster P/U Street Rod, 31 Ford A
Studebaker
65 Mustang fastback and convert
66 T Bird project
66 Mustang GT convert

55 Chevy ht, 37 Ford
55 C Victoria, 51 Ford Crestline
69 & 87 El Caminos, 84 Camaro, 86 Monte Carlo
45 Ford P/U. 55 Ford P/U
Chevy project, 55 Willys
33 Chevy P/U, 57 T-Bird
29 Roadster P/U, 71 Chevy P/U
54 Chevy Bel Aire ht
65 Ford Galaxie original project
65 Chrys, Newport ht
53 MG TD
39 Plymouth
58 Chevy Biscayne "It'll Do"
1939 Plymouth
56 Chevy proj
57 Chevy
69 Corvette
55 Chevy Pro Street!
58 Vette "Baby Doll"
63 Chrysler New Yorker

1949 Ford F-150
59 Ford Conv
40 Ford, 70 RoadRunner Convert
29 Ford St Rod, 41 Chevy Coupe
35 Buick
77 Corvette
56 Chevy, 61 T-Bird convs
67 GTA Coupe, 1970 Mustang Conv
66 Mustang conv "Feels Young
59 Vette
63 Nova Conv
51 Chevy, 65 T-Bird, Ford Trucks



Member of the Month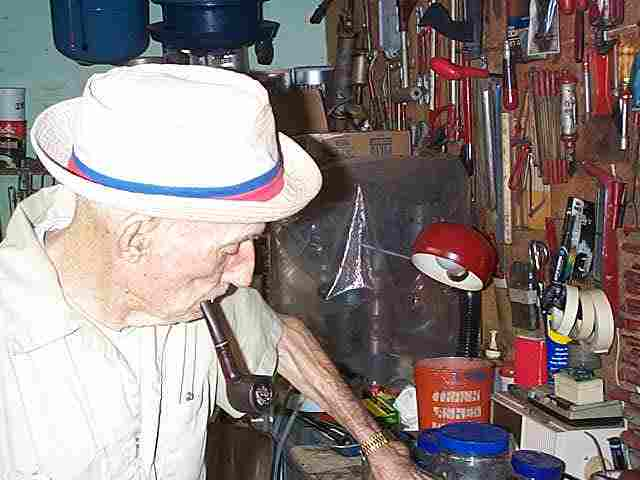 Harry Day joined the Fifties Unlimited just a few months after its formation. at the time, he was also a member of GALCO, the biggest car club in Galveston County. He and his wife Jean put in untold hours organizing their swap meet in League City every year.
At that time he was a Thunderbird fiend, but since has switched loyalties to Ford's Mustang. Today, he is a certified judge for 64-70 Mustangs.
For the last 15 years, he has haunted the Pate and other swap meets, searching for the parts to restore the 16 cars he has done since retirement. He buys, sells, and trades Mustang parts constantly. Some of the parts in his inventory are absolutely necessary for a finished restoration, and are no longer being made, or even available. Even the Mustanf=g parts pros turn to Harry for help. He is known nationally for his parts collection, selling Mustang pieces as far away as both coasts.
Harry says what he has always enjoyed nost is teaching young people to work on cars. He doesn't get around quite as easily as he used to, but still loves to talk cars. He can most likely answer and Mustang parts questions you might have, and might even have the parts you need!